Maygas
Maygas® is a new multilayer tube composed of polyethylene-aluminium-polyethylene (Pe-Al-Pe), with differential characteristics that make it the best.
Maygas® limits localised load leaks, shortens installation times and significantly reduces labour costs.
Aluminium contributes with its metallic attributes: exceptional malleability, unalterable mechanical resistance, low coefficient of linear expansion, structural rigidity and easy detectability.

Polyethylene provides high elasticity, unlimited resistance to corrosion, low thermal conductivity, impermeability, low internal surface roughness, low weight, extended product life, and it also guarantees the perfect molecular fusion between the tube and the wide range of accessories of the system.

Transition accessories
with nickel-plated brass threads.

Wide variety of fusion-fusion fittings,
transition fittings with metallic threads, ball valves.

Exclusive low-cost tools
and extended product life.
Fusion
Fusion eliminates leaks in the joints.
Today there is no joining method capable of offering an equivalent level of safety.
Its malleability
Maygas® has no elastic memory, so it remains as defined by the installer. The curvature is made in cold with the use of a plastic tube that is inserted inside the tube. This makes it easy to obtain curves of different angles and radii quickly, without the slightest risk of narrowing and/or constricting the tube.

Perfect alignment
Its malleability helps the formation of curves, the correction of angles and the compensation of small longitudinal differences resulting from cutting errors. The changes of direction and overpasses are solved without fittings or joints, just by bending the pipe. As a result, elbows or step over bends are not used, which simplifies the installation work.

Maygas® makes it easy to perfectly align all the elements of an installation. To correct it, simply introduce an element to pry and turn the thermo-fused piece to the desired position.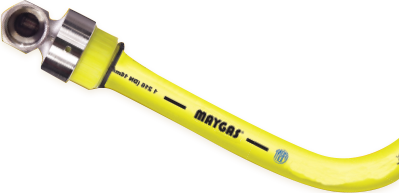 Rolls
This format makes the installation, transport, storage and handling the material faster and easier.
Presentation:
Diameter: 16: 150-metre rolls
Diameter: 20: 100-metre rolls
Diameter: 25: 50-metre rolls
Diameter: 32: 60-metre rolls

Optional: 4-metre bars for every diameter